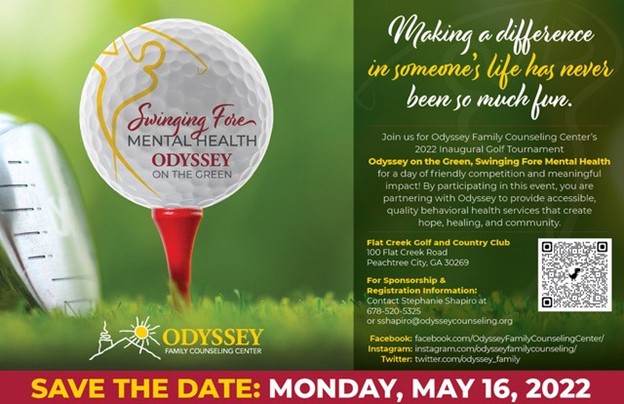 Odyssey Family Counseling Center is having our inaugural Odyssey on the Green, Swinging Fore Mental Health golf tournament on Monday.  May 16, 2022, at Flat Creek Golf and Country Club located in Peachtree City, GA. Proceeds from the event will be used to provide comprehensive services including mental health counseling, substance abuse counseling, and mental health prevention and education services to individuals and families in the metro-Atlanta area.
For Sponsorship and Registration please visit our Tournament Website at: Odyssey on the Green: Swinging "Fore" Mental Health (golfstatus.com)
The South Fulton Mental Health Collaborative
Odyssey partnered with Fulton County Schools and the South Fulton Parents for Education to formulate the South Fulton Mental Health Collaborative (SFMHC). The collaborative was developed to create opportunities and resources regarding mental health in the South Fulton County community with the goal to increase knowledge and understanding of mental health topics and decreasing stigma.
For up to date resources and information, please go to their social media page.
On the first Wednesday of every month, the SFMHC, along with various community partners, host virtual presentations to provide information and community resources via Facebook Live.